So I picked up a new book today! One of the perks of working in a bookstore -- when I suddenly remember that there's a book out there that sounds pretty good, I have a decent chance of being able to find it right away. :D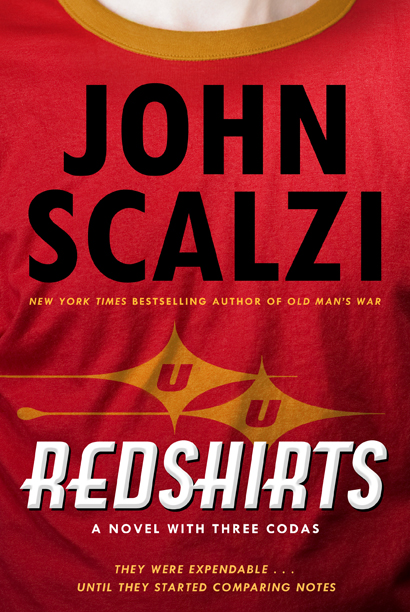 I've never read Scalzi before -- I will now, because Redshirts was pretty awesome, in a couple of ways, and also the dude's pretty entertaining on twitter.

This one's a quick read (I read about half of it while I was still at work, and finished the rest over dinner), but there's enough going on in it that I'll need to read it again soon, slower.

I don't really do proper book reviews, for the same reason that I don't really try to explain the plots of things I'm writing to friends or family -- I suck at it. And also I don't personally care that much about spoilers and am not that sensitive as to what constitutes a spoiler, necessarily, so I'm always nervous that I'll inadvertently give something away that someone who hasn't read it would rather not know.

So instead, I'll say this: whether you were a fan of Star Trek or not, if you like a little (or a lot) of storytelling meta in your stories, but you don't want to sacrifice believable, sympathetic characters for it? Read this. It's a lot of fun, and I expect it might be more so on a second read. It wouldn't hurt if you were also a fan of MST3K, I think, though there aren't any direct parallels there.